Searching for the perfect car can be daunting. With so many vehicles on the market, it's difficult to know which cars promise reliability and visual appeal, all for an affordable price. 
If it's Mitsubishi you're interested in, we've done the work for you by collating the top Mitsubishi models available in the US today. Here you'll find the ultimate guide to Mitsubishi's best cars, bursting with all the information you need about their features and performance. Your new ride awaits.
Why You Should Choose Mitsubishi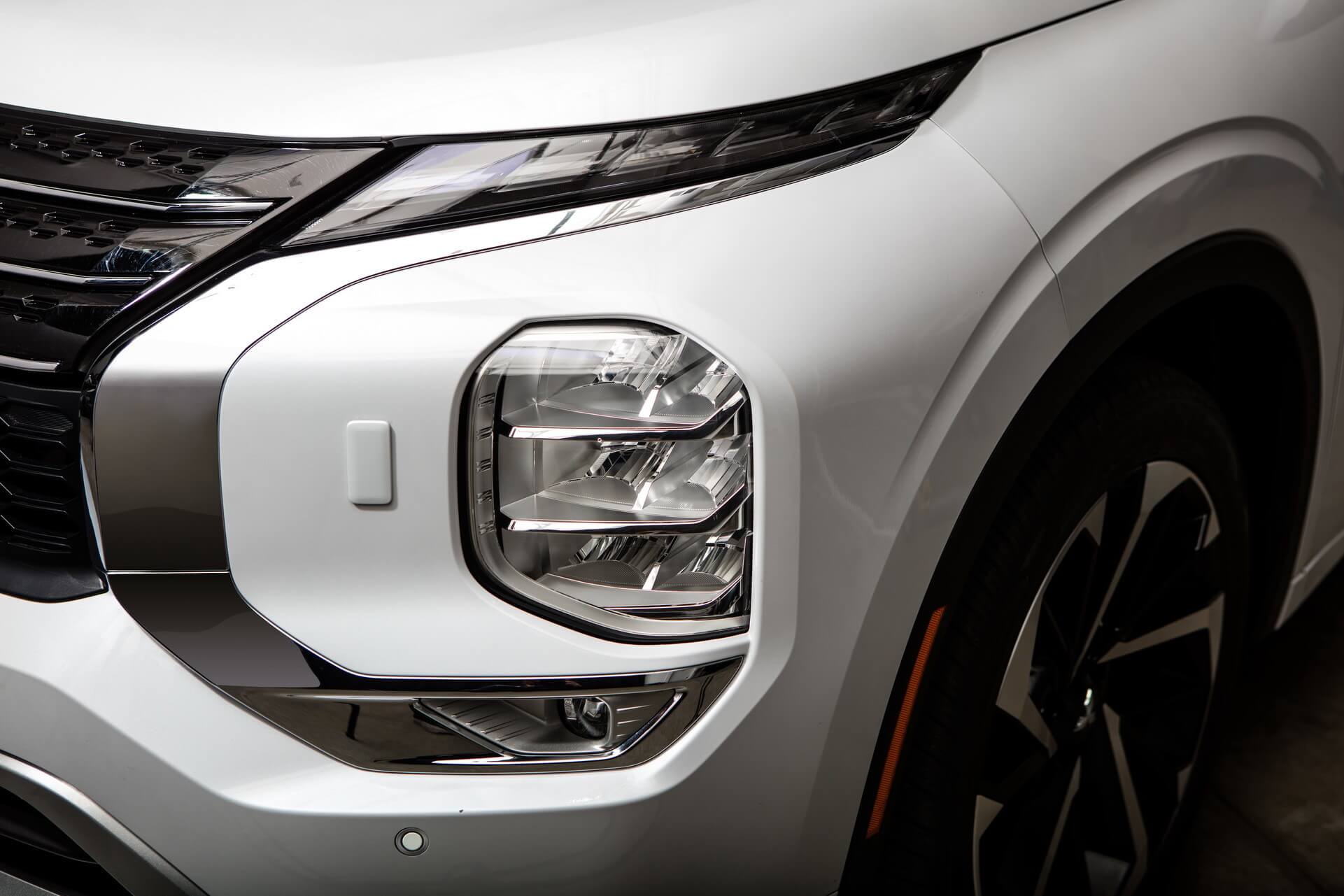 Industry-leading Reputation
Mitsubishi's knowledge about cars goes back more than a century. This innovative car manufacturer created Japan's first production car - the Model-A - in 1917. Ever since, Mitsubishi has led the way in stylish and efficient car design.
In the 1990s, Mitsubishi introduced the world's first traction control system, revolutionizing car safety forever.
With the climate crisis in mind, Mitsubishi has recently turned its attention to plug-in hybrid and electric cars, promising a cleaner way of driving.
Don't just take our word for it. This award-winning car manufacturer has won various accolades over the years, with its 2022 Outlander named "Vehicle Of The Year" by Victory & Reseda Magazine.
Plus, a 10 Year, 100,000 Mile Warranty comes with every new Mitsubishi purchase at Southtowne Mitsubishi. Shop our new vehicles today!
Innovative Technology
Hailing from Japan - one of the world's technology capitals - it's no surprise that Mitsubishi's vehicles stay at the cutting-edge of technology.
The manufacturer's All-Wheel Control is a popular feature with drivers, allowing people to drive with maximum stability.
Mitsubishi cars are filled with features to make your life easier, including climate control and keyless ignition.
Value for Money
Powerful steering, smooth driving, a sleek design, and reliability are only attractive qualities if they're affordable for working people.
Mitsubishi remains a popular manufacturer for families, thanks to its stylish and dependable cars with affordable price tags. Mitsubishi's vehicles typically offer long-lasting warranties - a testament to the cars' reliability and status as a long-term investment.
Mitsubishi Outlander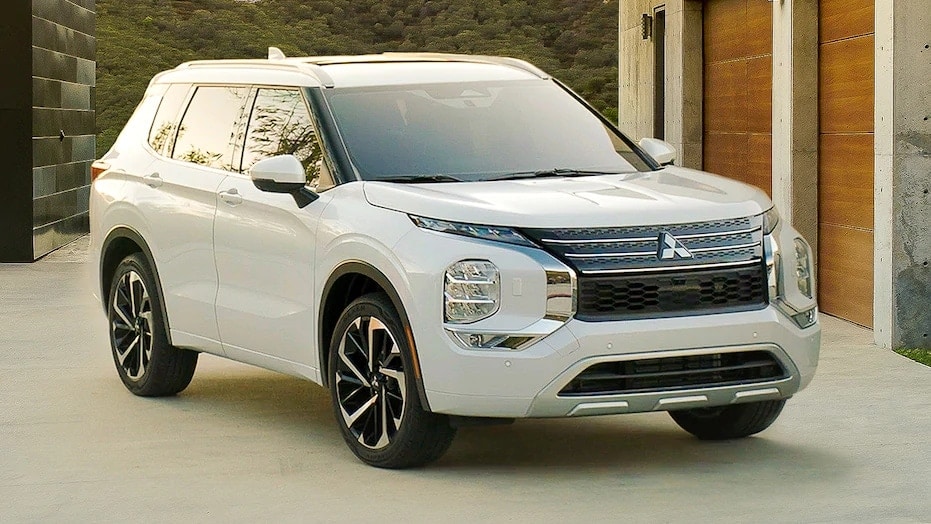 Size and Power
The award-winning Mitsubishi Outlander is one of the Japanese manufacturer's most popular models. This innovative SUV boasts seven seats, six driving modes, and a 2,000-pound towing capacity, ideal for taking the family on a long weekend away with space to take everything you need.
Mitsubishi's cutting-edge Trailer Stability Assist continuously monitors the sway of your trailer to guarantee maximum safety when towing.
The cargo area is large enough for all your necessities, and the four-cylinder engine offers reasonable fuel economy.
Entertainment and Features
If you're taking the kids on a long journey, the Mitsubishi Outlander is guaranteed to keep them occupied with a huge entertainment offering, including a sound system with theater-quality sound, Apple CarPlay, and Android Auto connectivity.
Outlander's full-color Heads-Up Display lets you sit back, relax, and enjoy the show.
True to Mitsubishi's signature style, Outlander is full of innovative features, including MI-PILOT, the advanced driver-assist system that supports speed control, lane centering, and traffic jam assist.
Active Blind Spot Assist helps drivers avoid collisions by detecting vehicles not visible to the human eye, making the Outlander one of the safest SUVs.
Dependability
With 100,000-mile and 10-year warranties, you can rest easy knowing that this reliable model provides excellent value for money.
Overall, Mitsubishi's Outlander is a reliable, attractive SUV for the price of comparable five-seaters on the market.
The Outlander isn't geared towards high-speed acceleration, but if you're looking for a dependable car with room for all the family, you'll be content with what this SUV offers.
Mitsubishi Outlander Sport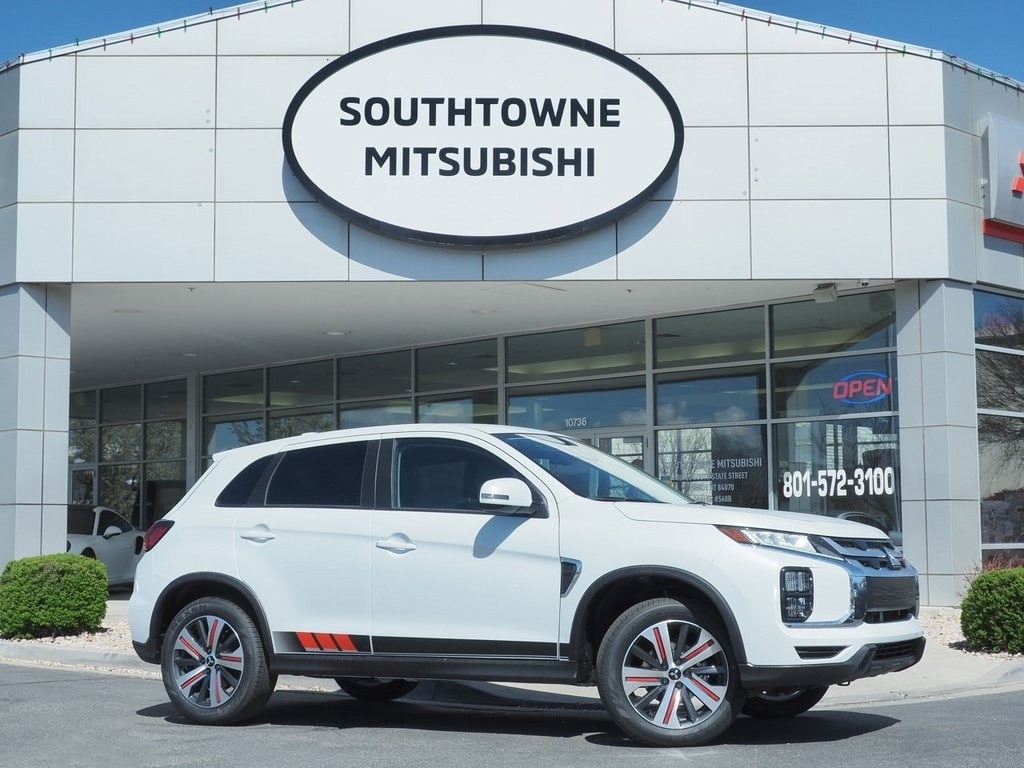 Size and Power
The Outlander's cooler younger brother, Outlander Sport, is Mitsubishi's impressive 5-seater offering. This sporty crossover offers two engine options: the standard 2.0-liter MIVEC four-cylinder engine delivering 148 horsepower, and the 2.4-liter MIVEC, with a horsepower of 168.
The Outlander Sport benefits from Mitsubishi's signature All-Wheel Control, allowing superior traction and handling on any terrain, whatever the weather.
The SUV's cargo space is flexible, so you can adapt it to your needs. The Outlander Sport lets you fold up the rear seats, increasing the available boost space to an impressive 49.5 cubic feet of storage.
Drivers enjoy heated and adjustable front seats for maximum comfort, with leather available for luxury lovers.
Entertainment and Features
As well as the Outlander Sport's stylish interior, the car offers several features to keep you entertained and connected on the move. Never run out of power again with the model's multiple USB charging ports, perfect for use on long journeys.
Just like the Outlander, the Sport keeps drivers and passengers entertained with Apple CarPlay and Android Auto integration. You can jump in and drive away with the revolutionary FAST-Key entry system and push-button start, saving crucial minutes - so you can arrive at your destination on time.
Dependability
The Outlander Sport comes with a 10-year and 100,000-mile warranty, so you can rest easy knowing that you're in good hands if anything goes wrong.
The Outlander Sport offers safety features such as LED low and high beam highlights, keeping you safe even in poor visibility.
Although this model offers fewer seats than the original Outlander, it's the perfect car for getting a family of five from A to B with zero fuss.
Mitsubishi Eclipse Cross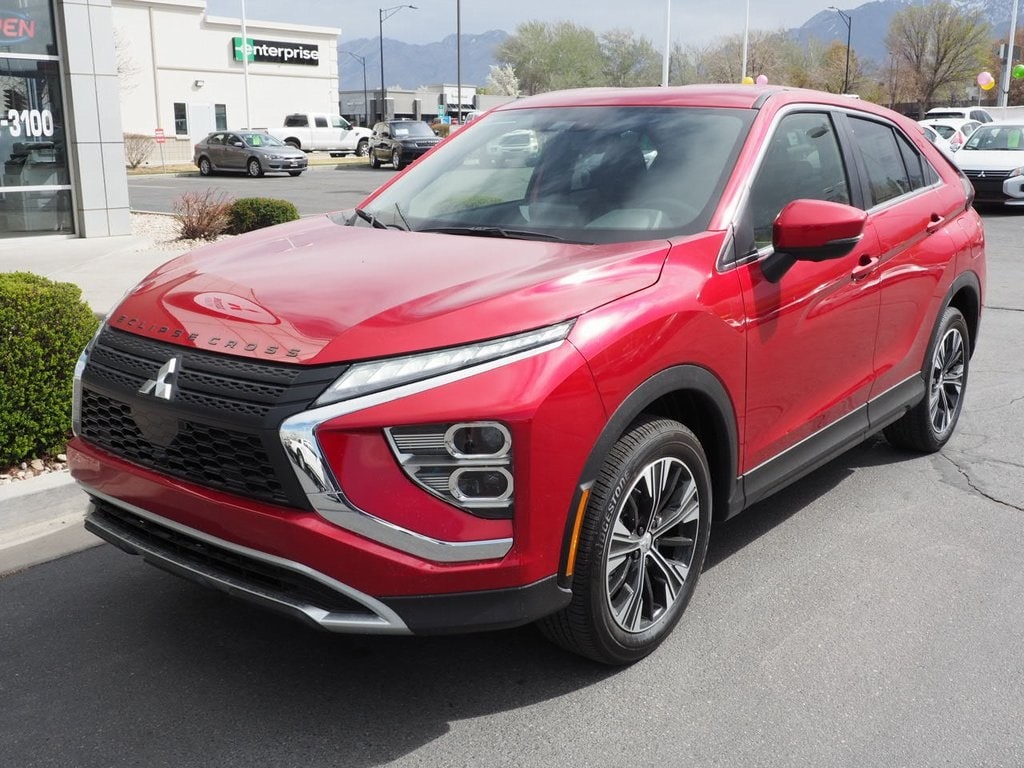 Size and Power
What do you get if you cross sleek, streamlined design with Mitsubishi's groundbreaking All-Wheel Control? The Mitsubishi Eclipse Cross.
This eye-catching model has five seats and an impressive 1,500-pound towing capacity, making it ideal for weekend trips.
Entertainment and Features
The Eclipse Cross offers state-of-the-art safety features, including Forward Collision Mitigation, Lane Departure Warning, and Automation High Beam.
The Eclipse Cross takes personalized driving to a whole new level. MyQ Connected Garage connects your garage to your Eclipse through a smartphone app, so you can open your garage door from the comfort of your car.
Tech lovers will rejoice at the Eclipse Cross's high-tech interior features. Never suffer a silent journey again with this model's upscaled audio system, letting drivers and passengers hook up to Apple CarPlay or Android Auto to access music, maps, and more.
When it comes to safety, Mitsubishi's impressive HUD technology has it sorted. With the manufacturer's full-color, transparent HUD, you can keep vital info in your line of sight at all times.
Dependability
Mitsubishi is prepared to put its money where its mouth is with its impressive warranty options. These include a 5-year/60,000-mile fully transferable New Vehicle Limited Warranty, a 10-year/100,000-mile Powertrain Limited Warranty, and a 7-year, 100,000-mile Anti-Corrosion Limited Warranty.
Mitsubishi Mirage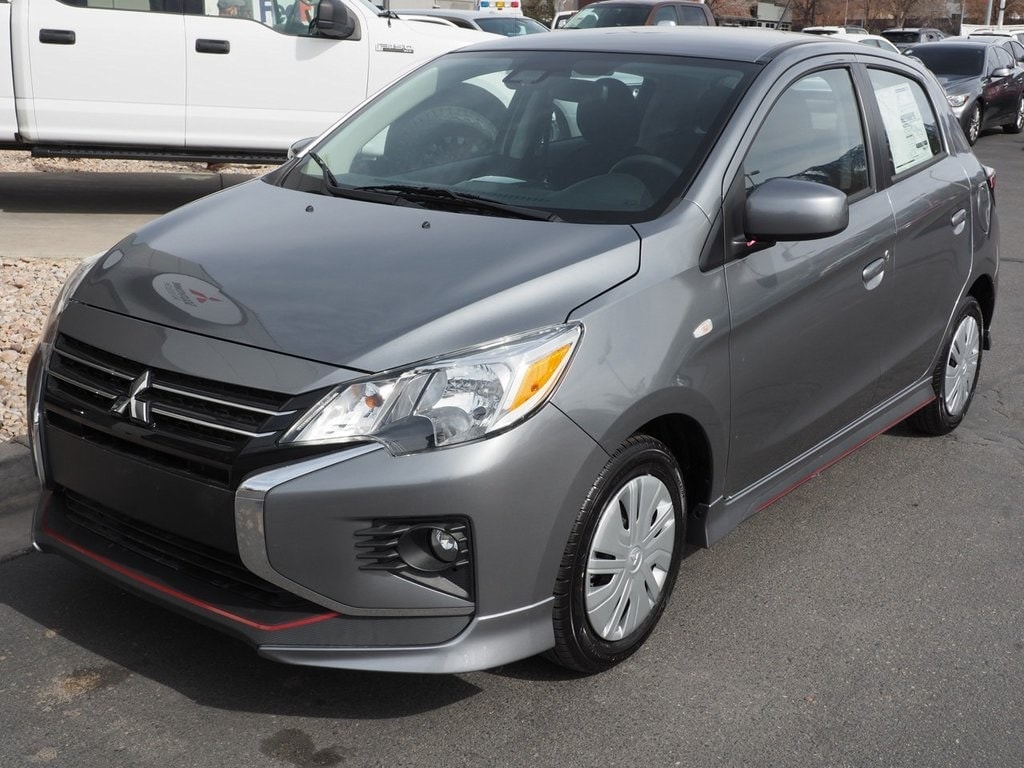 Size and Power
Five spacious seats? Check. 39 mpg? Check. Versatile cargo space? Check.
It's the Mitsubishi Mirage.
The Mirage is Mitsubishi's compact, fuel-efficient offering. While smaller than Mitsubishi's larger SUVs like the Outlander, the Mirage is shrewd with its space, offering 47 cubic feet of trunk space when the rear seats are down.
Even with the seats up, the Mirage offers a generous 17.1 cubic feet of cargo room, so you can pack all the essentials for the family camping trip.
Entertainment and Features
The Mitsubishi Mirage takes your safety seriously. This compact car is equipped with Pedestrian Detection, Lane Departure Warning, and Rearview Camera - all features that help you stay safe on the roads.
As with all of Mitsubishi's models, the Mirage keeps you connected. Join the smart audio display with your smartphone and enjoy music, directions, and more.
Dependability
The Mirage benefits from industry-leading fuel economy, so you're less likely to be caught short on gas on a long journey.
You're covered when you buy the Mirage. Mitsubishi promises drivers the best quality possible, with its generous warranty guaranteeing longevity or your money back.
Mitsubishi Mirage G4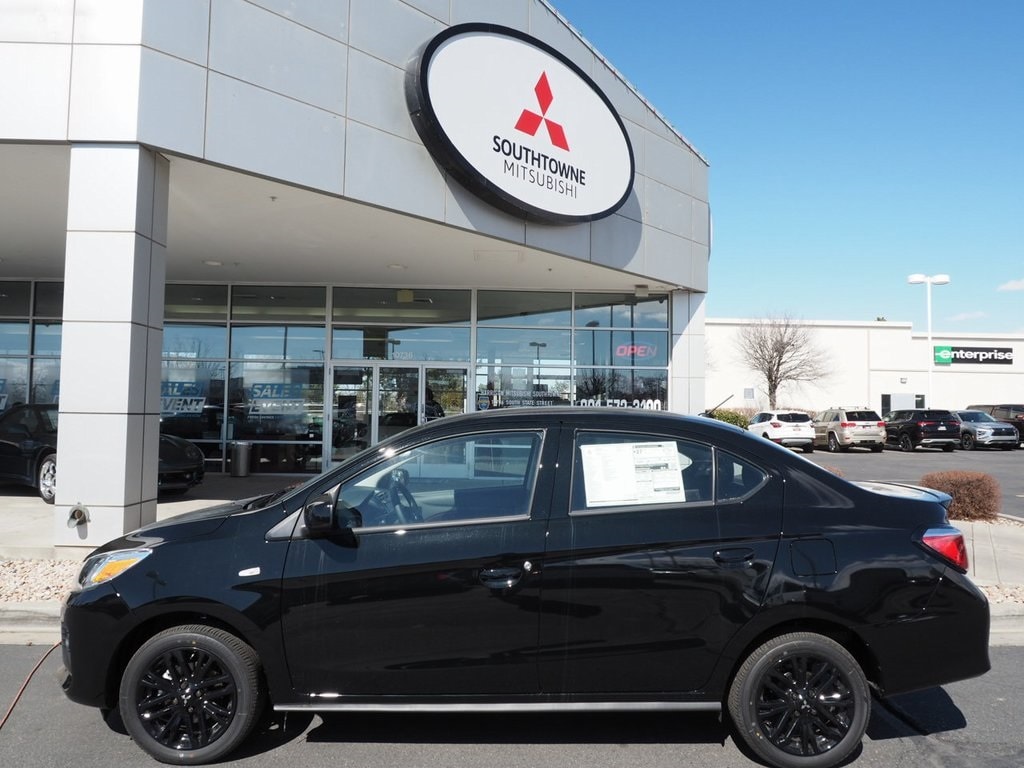 Size and Power
For the city slicker who likes getting from place to place with speed and in style, Mitsubishi's Mirage G4 is the ideal compact vehicle.
The Mirage G4 comes with a generous 12.6 cubic feet of cargo space for your essentials, and with five seats, you can take the family with you wherever you go.
Entertainment and Features
The Mirage G4 allows you to turn easily and park in those troublesome tight spots with its 15.10 turning radius.
The G4's hill start assist stops you from rolling back, keeping you safe no matter the terrain, and Active Stability Control keeps you from slipping and sliding in wet weather.
The Mirage G4 lets you connect your smartphone and your car easily with Apple CarPlay and Android Auto. As a result, you can access important information and entertainment at the touch of a button throughout your journey.
Dependability
The G4's incredible fuel economy means you'll save more money and fill less often.
This model's dependability knows no geographical boundaries, with the G4's CVT offering 35 mpg in the city, 41mpg on the highway, and a combined 37mpg, so you can keep moving no matter the destination.
The Bottom Line
The world-class manufacturer, Mitsubishi, offers a range of innovative, dependable cars with technology features that mean you're safer than ever before.
The Outlander is the ultimate family car, equipped with seven spacious seats and a Heads-Up Display to keep the kids occupied. The Outlander Sport is a smaller alternative to the Outlander, perfect for nipping from place to place on a busy morning.
The Mirage and Mirage G4 both offer compact style, perfect for city living, while the Eclipse Cross is the ultimate car for tech lovers.
While different models offer different sizes or horsepower, all models guarantee a smooth, safe, and stylish drive.