The Top 3 Affordable Mitsubishi Cars in 2022
Finding a car that suits your needs but doesn't break the bank is tricky. You're looking for style and substance at an affordable price, with excellent fuel economy to boot.
Fancy tech, a sleek design, and a reliable engine are only desirable features if they're matched by a reasonable price tag. That's where Mitsubishi comes in.
Why Mitsubishi?
Mitsubishi has a long-held reputation for producing cars that offer serious bang for their buck.
The innovative Japanese car manufacturer believes that affordability shouldn't come at a cost. Dependability and innovation are woven into every model's design, with the intention of building cars to last.
One of Mitsubishi's famous pledges to its customers is its 10-year and 100,000-mile warranty, a testament to Mitsubishi cars' reputation as long-term investments.
A Car Manufacturer Ahead of the Game
Affordability is all well and good, but are Mitsubishi cars actually worth it? The car manufacturer's notoriety speaks for itself.
Mitsubishi began producing cars over a century ago, beginning with its groundbreaking Model-A, created in 1917. The popular automobile manufacturer has been ahead of the curve ever since.
It's Mitsubishi you have to thank for revolutionizing road safety. In the 1990s, Mitsubishi introduced the world's first traction control system, designed to prevent loss of traction and reduce the risk of road incidents.
Mitsubishi's offerings don't skimp on innovative tech, either. Climate control, keyless ignition, adaptive cruise control, and Apple Carplay feature in many of their models, contributing to a seamless driving experience.
If Mitsubishi ticks your design and reliability boxes, you won't be disappointed with the price. Mitsubishi produces impressive, dependable cars with an affordable price tag.
Here, we've assembled the top 3 most affordable Mitsubishi cars available in the US in 2022. Read on to discover everything you need to know about their features and performance to find your perfect fit.
2022 Mitsubishi Mirage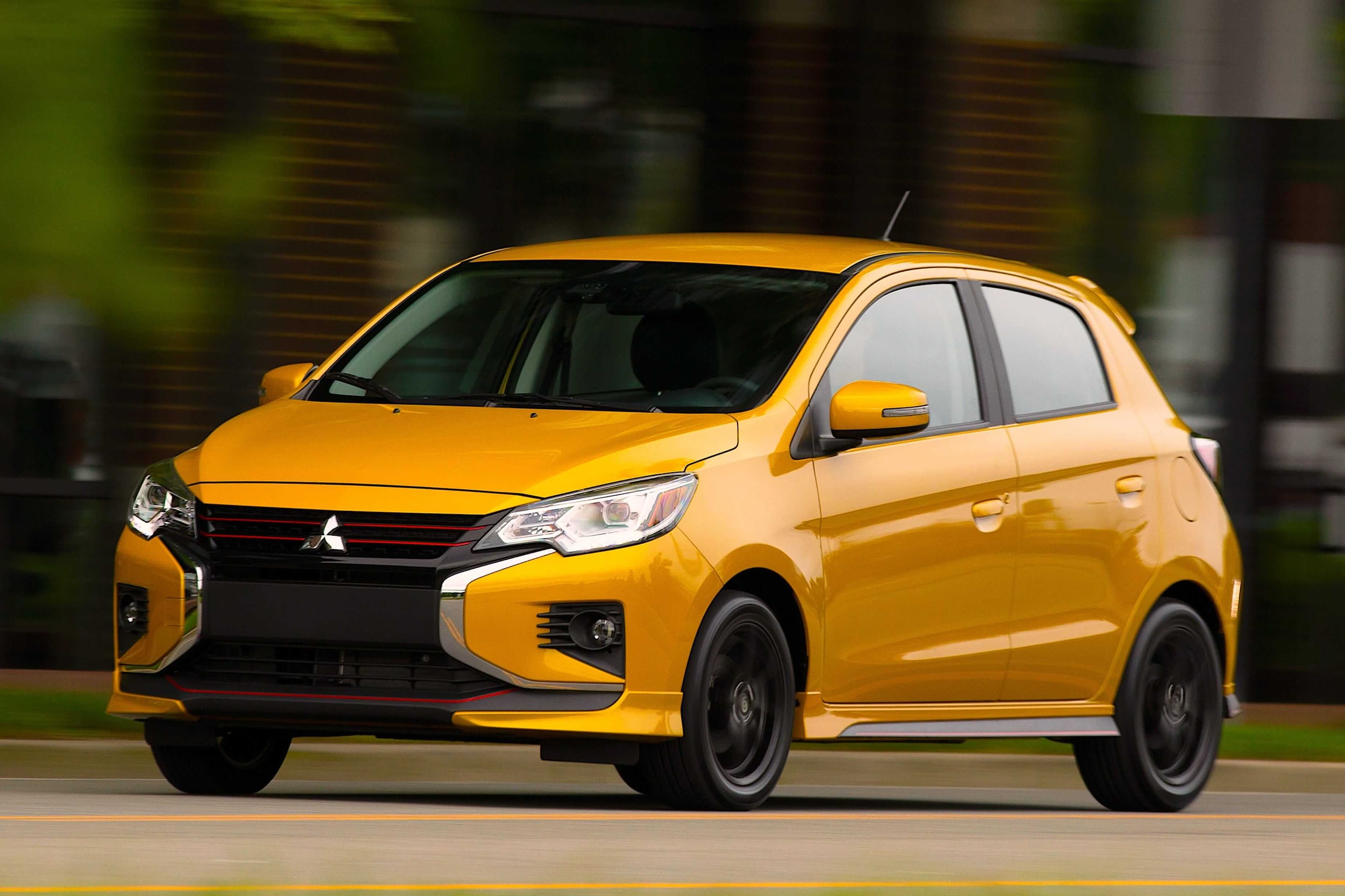 Size and Power
Mitsubishi combined the sleek look of a hatchback with unparalleled fuel efficiency and versatile cargo space you'd usually find in an SUV. The result? The Mitsubishi Mirage.
Made with a 1.2 liter Inline-3 Gas engine, the Mirage Hatchback is all about fuel economy. If you're an eco-warrior looking for a more affordable alternative to a hybrid or electric model, the Mirage is perfect for you. This popular model offers an impressive 39mpg, unrivaled by many of the comparable models on the market, such as the Chevrolet Spark and Nissan Versa.
Despite its smaller size, the Mirage is deceptively spacious, offering 47 cubic feet of trunk space with the rear seats down. Even with all the seats up, you'll enjoy an impressive 17.1 cubic feet of cargo space.
With this spacious model, you'll never have to argue with your partner over cargo space again.
Features
Like all the Japanese manufacturer's models, the Mitsubishi Mirage is extremely safety-focused. This fuel-efficient compact car boasts Pedestrian Detection, Rearview Camera, and Lane Departure Warnings - features that make your journeys safer even when you're in a blind spot.
When it comes to entertainment, the Mitsubishi Mirage doesn't miss the mark. Stay connected with the Mirage's smart audio display to access music and maps.
Design-wise, the Mirage has style in abundance. The subcompact hatchback comes in four different trims: ES, SE, LE, and The Black Edition. The Black Edition trim is new to the Mirage for 2022.
Dependability
Arguably, the Mirage's most impressive feature is its fuel efficiency. With 39mpg, you're much less likely to find yourself stuck in the middle of nowhere low on gas.
Plus, the Mirage boasts Mitsubishi's revolutionary warranty - promising a great quality drive for at least 10 years or 100,000 miles.
Price
The Mirage Hatchback is one of Mitsubishi's most affordable vehicles, offering value for money you won't find anywhere else, especially given its groundbreaking fuel efficiency. You can find up-to-date prices for the Mirage on our site.
2022 Mitsubishi Mirage G4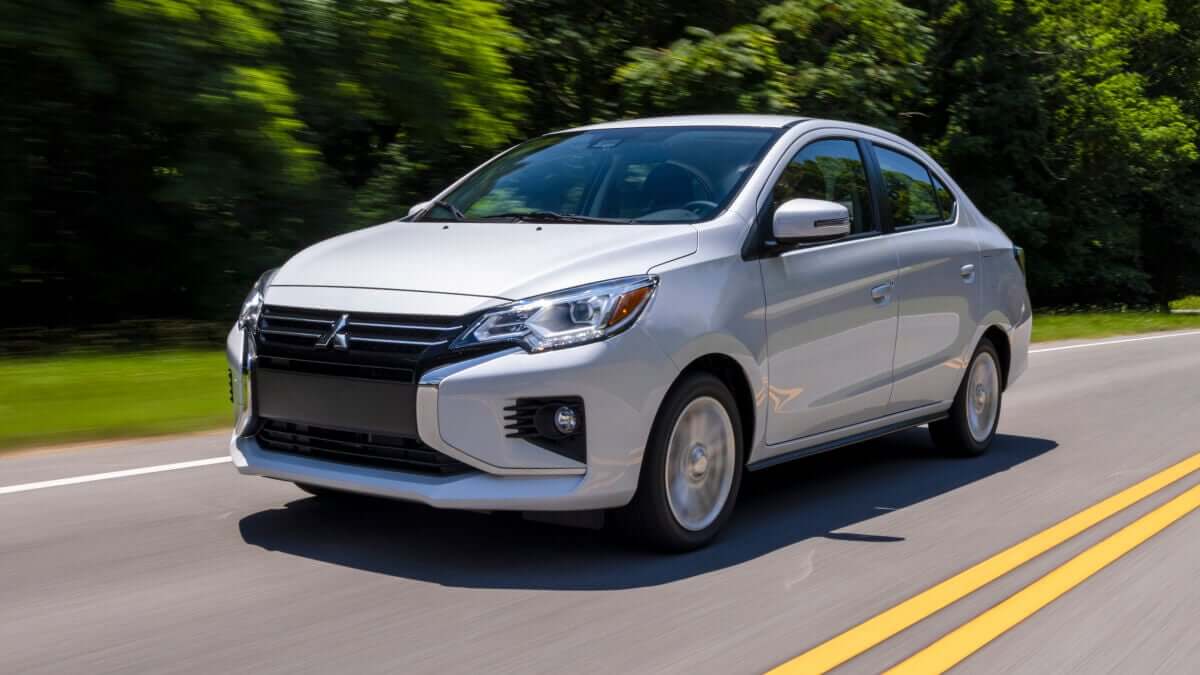 Size and Power
The Mirage G4 is the ultimate vehicle for the city slicker who needs to navigate tight spaces.
This compact car comes with 12.6 cubic feet of cargo space to store your essentials. Plus, with this model's spacious interior and five seats, you can take the whole family with you no matter the destination.
The Mirage G4 sedan follows in the Mirage hatchback's footsteps, with an impressive fuel economy of 37mpg.
Features
When it comes to entertainment and safety features, this compact model has it all. The G4's 15.10 turning radius lets you turn easily and park in the highest of spots, while the sedan's hill start stops you from rolling back on a steep incline.
Active Stability Control keeps you from slipping and sliding in wet weather or on rough terrain, so you'll stay safe even in the most challenging Salt Lake City winters.
This model is as city-ready as cars come.
The Mirage G4's entertainment offering is equally as impressive. With this stylish sedan, you can connect your smartphone to your car's control system with Apple CarPlay and Android Auto, so you can access your favorite driving soundtracks at the touch of a button.
Dependability
The G4's impressive fuel efficiency means fewer gas stops and more money in your wallet.
This car's fuel economy has your back no matter where you're driving, with the model's CVT offering 35mpg in the city, 41mpg on the highway, and a combined 37mpg.
As with all Mitsubishi's models, the sleek G4 offers an incredible warranty, giving you peace of mind on your investment.
Price
Just like its hatchback counterpart, the G4 is a fantastic value for money. Plus, the impressive fuel economy means less frequent gas stops, saving you money in the long term.
You can find up-to-date prices for the Mirage G4 here at Southtowne Mitsubishi.
2022 Mitsubishi Outlander Sport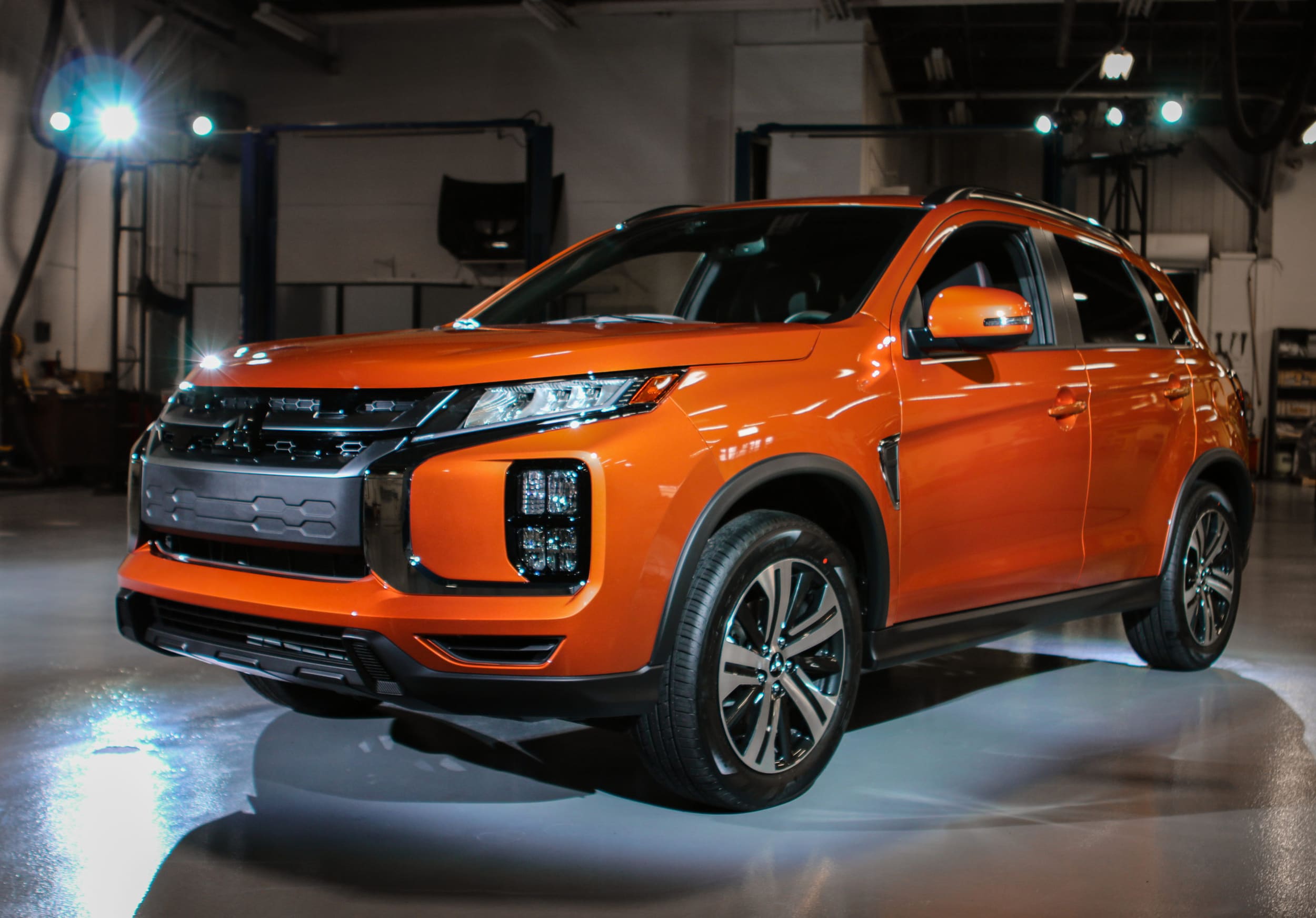 Size and Power
The slick alternative to the Mitsubishi Outlander, the Outlander Sport, is the Japanese manufacturer's sporty compact crossover. The Outlander Sport offers two engine options.
Customers can choose between the standard 2.0 liter MIVEC four-cylinder engine with 148 horsepower, and the 2.4-liter MIVEC, offering a horsepower of 168. You'll also benefit from the option of All-Wheel Drive, giving you extra control over your vehicle's movement.
This model's cargo space is adjustable, so you can adapt it to your needs on a given day. The trunk space becomes a generous 49.5 cubic feet with the rear seats folded up.
Plus, you'll benefit from a spacious interior featuring five seats, giving you room for all the family.
Features
If you like to stay connected on the move, you'll love the Outlander Sport. Gone are the days of your phone running out of juice on the road, with this model's multiple USB charging ports.
The heated and adjustable front seats guarantee a comfortable drive, plus leather lovers can opt for seats in their favorite premium material.
Keep the kids entertained with Apple CarPlay and Android Auto, and leave your driveway in minutes with the revolutionary FAST-Key entry system and push-button start. Stay cool with the Outlander Sport's automatic air conditioning, perfect for those weekend trips to the beach.
The Outlander Sport's safety features include LED low and high beam highlights, keeping you on track in poor visibility.
Dependability
The Outlander Sport comes with a 10-year and 100,000-mile warranty, so you can rest easy knowing that your vehicle promises longevity.
Price
The Outlander Sport is a little pricier than the Mirage and Mirage G4, but its innovative features and sleek design guarantee exceptional value for money. You can find up-to-date prices for the Mitsubishi Outlander Sport on our site.
The Bottom Line
Despite differences in features and cargo space, all our Mitsubishi models have one thing in common - they offer excellent value for money.
Whether you're looking for a car that fits in the city's troublesome parking spots, or a hatchback with unrivaled fuel economy, there's something for you in our range of well-priced models.
Although the Mirage, Mirage G4, and Outlander Sport are some of Mitsubishi's most affordable vehicles, they're certainly not lacking in features.
From innovative safety features such as Active Stability Control and Rearview Camera to entertainment options including Apple CarPlay and Android Auto, Mitsbushi's 2022 models are bursting at the seams with features that make your life easier.