Mitsubishi Outlander Vs. Mitsubishi Outlander Sport
If you keep up to date with the latest car models on the market, there's no doubt you'll have heard of two of Mitsubishi's most popular models - the Outlander and the Outlander Sport.
The Outlander was even named 'Vehicle of the Year' by Victory & Reseda Magazine.
While both vehicles boast innovative features and sleek design, they're unique in their own right with a few key differences. But which car is most suited to you and your family's needs? This guide should help you decide.
Why Mitsubishi?
Japanese car manufacturer, Mitsubishi, has spent over a century earning a blemish-free reputation in the world of cars.
Whether it's All-Wheel Control, smart entertainment offerings, or groundbreaking safety features, Mitsubishi has always been at the cutting-edge of driving technology. Its latest models are no different.
What's more, Mitsubishi couples its innovative features with accessible price tags, offering cars that are as affordable as they are impressive.
Let's dive into two of the car manufacturer's most popular models and their trademark features.
Is the 2022 Mitsubishi Outlander or Mitsubishi Outlander Sport Suitable for You?
Powerful engines? Check. Innovative safety features? Check. Remote keyless entry? Check. Spacious interiors? Check.
The 2022 Mitsubishi Outlander and Outlander Sport both feature Mitsubishi's latest technologies while maintaining visual appeal and dependability. If you're looking for a car with generous cargo space that fits five, both Outlander models tick the box.
Both models do more than just offer a comfortable drive. With cutting-edge features such as display audio and Micro Air Filtration, the two Outlander models are cars you'll actually want to spend hours in. No more "are we there yet?" thanks to features like Apple CarPlay to keep the whole family entertained.
The best part? They're both affordable, with a reasonable price tag matching each vehicle's impressive features.
Mitsubishi Outlander Features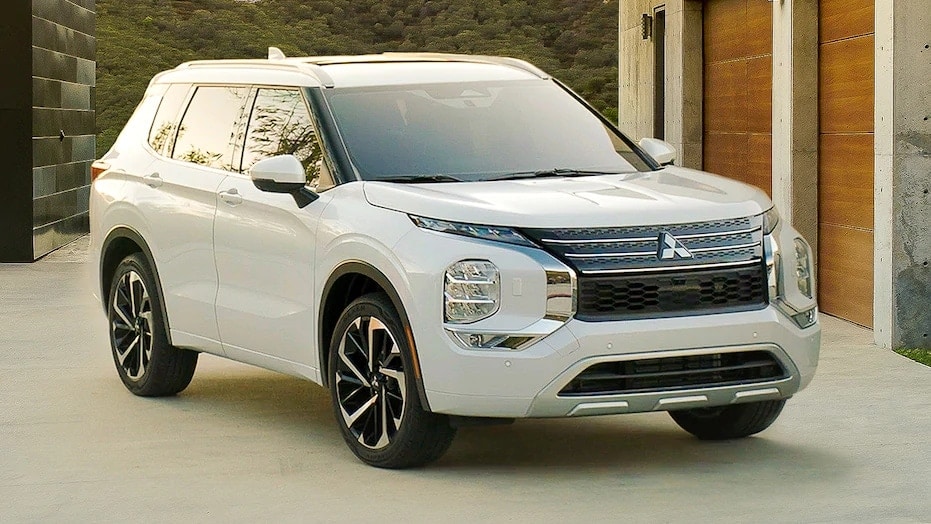 The 2022 Mitsubishi Outlander boasts a standard 2.4L 4-cylinder 166hp engine and front-wheel drive, with the option of upgrading to Mitsubishi's signature All-Wheel Control to give you greater control on tricky terrain or in troublesome weather.
The Outlander is a large SUV with spacious 40.6-inch headroom inside the cabin and seven seats. When it comes to performance, this model offers 24mpg in the city, with an impressive 30mpg on the highway.
The Outlander's interior doesn't disappoint, either. There's a generous 63.6 cubic feet of available cargo space when the rear seats are down and three rows of seating, allowing for ample room for the whole family and all the essentials.
If it's safety features you're after, the 2022 Mitsubishi Outlander offers them in abundance. Drivers benefit from the inclusion of Blind Spot Warning, Lane Change Assist, Forward Collision Mitigation, and Rear Automatic Emergency Braking.
Other notable Outlander features include Apple CarPlay and Android Auto, so you can turn your car into your personal sound system. There's more, too - including the revolutionary drive mode selector, dual-zone automatic climate control, rear-seat air vents, and power windows.
One of the Outlander's best features is its push-button start and remote keyless entry, allowing you to set off on your journey without wasting a single second.
Mitsubishi Outlander Sport Features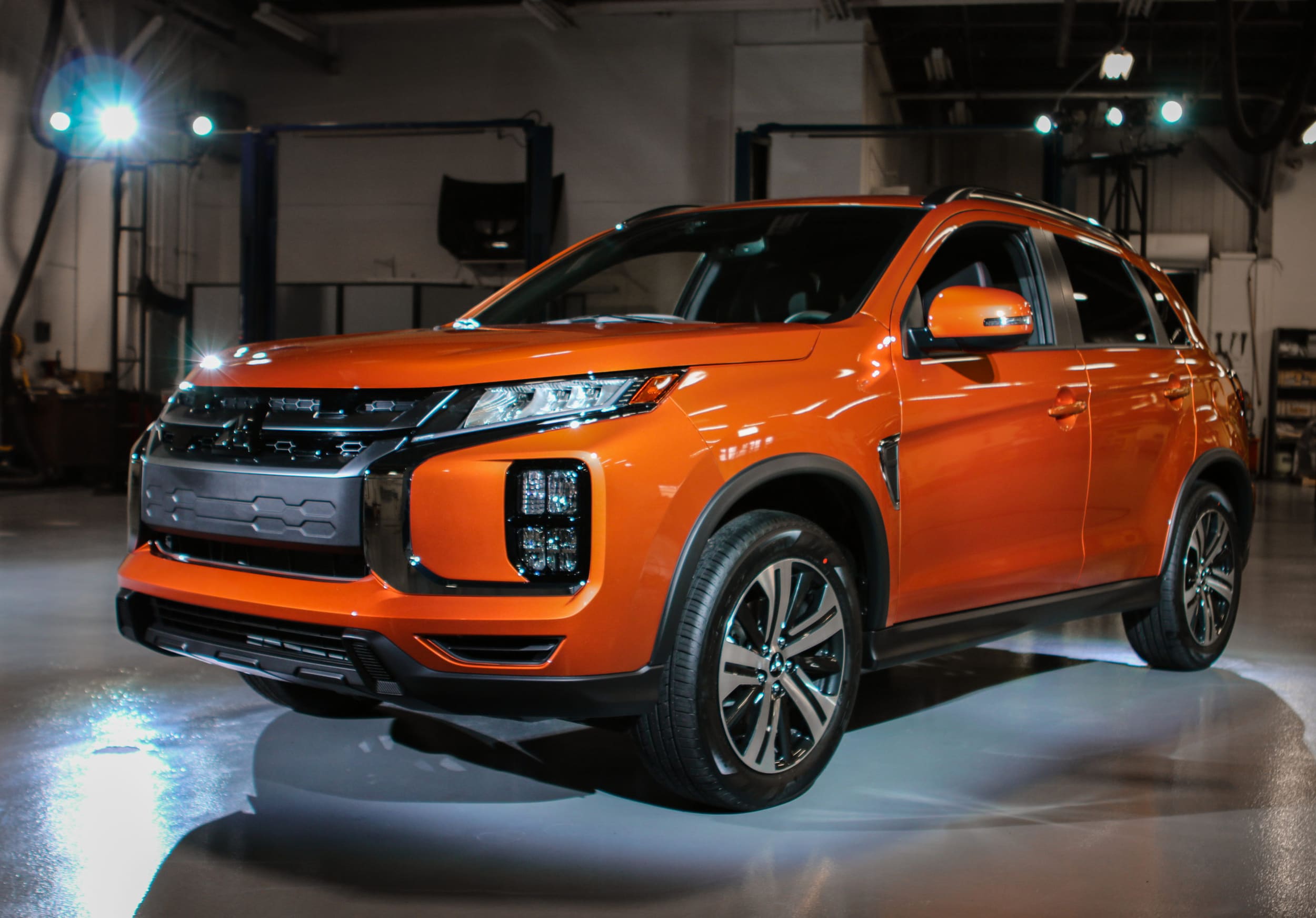 Suited to city slickers, the Outlander Sport is the Outlander's more compact alter ego. Featuring five seats instead of seven, the Outlander Sport may be smaller in size, but it has a huge personality. Plus, this compact vehicle boasts 49.5 cubic feet of cargo space when the rear seats are folded down.
Drivers benefit from remote keyless entry, steering wheel phone and audio controls, and automatic climate control. Like in the Outlander, you can keep your passengers entertained by connecting to Apple CarPlay or Android Auto for on-the-go access to music and maps.
When it comes to safety features, the Outlander Sport has them in abundance. Forward Collision Mitigation and pedestrian detection minimize your risk of road incidents, while automatic high beams help you drive safely no matter the visibility.
Mitsubishi Outlander vs. Mitsubishi Outlander Sport: Which is Better?
The 2022 Mitsubishi Outlander and Outlander Sport are both impressive vehicles in their own right, but depending on your needs, one may be more suited to you than the other.
Size
Although the Outlander Sport is smaller in size, the difference becomes negligible once you're inside the cabin. The Sport rivals the roomy Outlander with only 1.2 inches less headroom. Neither model skimps on cargo space, with both vehicles offering generous cubic feet in the trunk when the rear seats are down.
The Outlander has seven seats whereas the Sport offers only five, so if you're regularly driving more than five people, the Outlander is more suited to your needs.
Performance
Both the 2022 Mitsubishi Outlander and the Outlander Sport have identical ABS brake systems with 4-wheel disc brakes.
Because of the Outlander's larger size, it comes with a larger engine than the Sport as standard. The Outlander is equipped with a standard 2.4-liter four-cylinder engine producing 166 horsepower, with the option of upgrading to a 3.0-liter V6 engine that produces 224 horsepower.
The Outlander Sport's engine is the less powerful of the two, coming as a 2.0-liter four-cylinder engine with 148 horsepower as standard, and the option of using the Outlander's 2.4-liter engine, which gives 168 horsepower on the Sport.
The Outlander's towing ability pips the Outlander Sport to the post, with an awe-inducing maximum towing capacity of 3,500 pounds. Towing isn't recommended with the Outlander Sport. With this in mind, the Outlander is more suited to your needs if you regularly use your car to tow other vehicles.
Features
Both vehicles come with standard front-wheel drive and offer the option of Mitsubishi's trademark All-Wheel Control to provide you with greater traction when tackling tricky terrain.
Both the Outlander and the Outlander Sport allow you to stay connected wherever you are, with Apple CarPlay and Android Auto compatibility on the cars' display. These popular features let you control your device hands-free while you drive, so you can listen to music, make calls, and use maps.
Price
The 2022 Mitsubishi Outlander is the more expensive of the two because of its wider range of features and extra two seats. However, both models offer excellent value for money, with premium features available at an affordable price.
Both the Mitsubishi Outlander and the Mitsubishi Outlander Sport come with Mitsubishi's signature 10-year and 100,000-mile warranty for peace of mind.
The Bottom Line
The Outlander and Outlander Sport are exceptional cars in terms of technology and safety features, sleek design, and interior space.
For drivers who regularly drive with more than five passengers, the seven-seat Outlander is ideal. The same goes for drivers that regularly tow another vehicle, because the Outlander boasts an incredible towing capacity of up to 3,500 pounds. The Outlander Sport, on the other hand, isn't suited to towing.
If you're in the market for a compact SUV for whizzing around the city and squeezing into tight spaces, the Outlander can't be beaten. Its affordable price tag makes it the perfect offering for buyers on a budget, and its deceptively large interior rivals that of the Outlander.
While the Outlander boasts a more powerful engine as standard, owners of the Sport can upgrade to the same engine for seriously impressive horsepower for an SUV as compact as this one.
Open to learning more about the Outlander and the Outlander Sport and seeing vehicle options? Both models are currently available at our Utah-based showroom.