Mitsubishi Mirage Vs. Mitsubishi Mirage G4
Style. Elegance. Impressive fuel economy. Reliability. Space. Flexibility. Mitsubishi's new offerings, The Mirage and Mirage G4, tick all these boxes.
These revolutionary two compact vehicles are similar, but they're unique in their own right thanks to several key differences. To find out whether the Mitsubishi Mirage or the Mirage G4 is best for you and your family, read on.
Why Mitsubishi?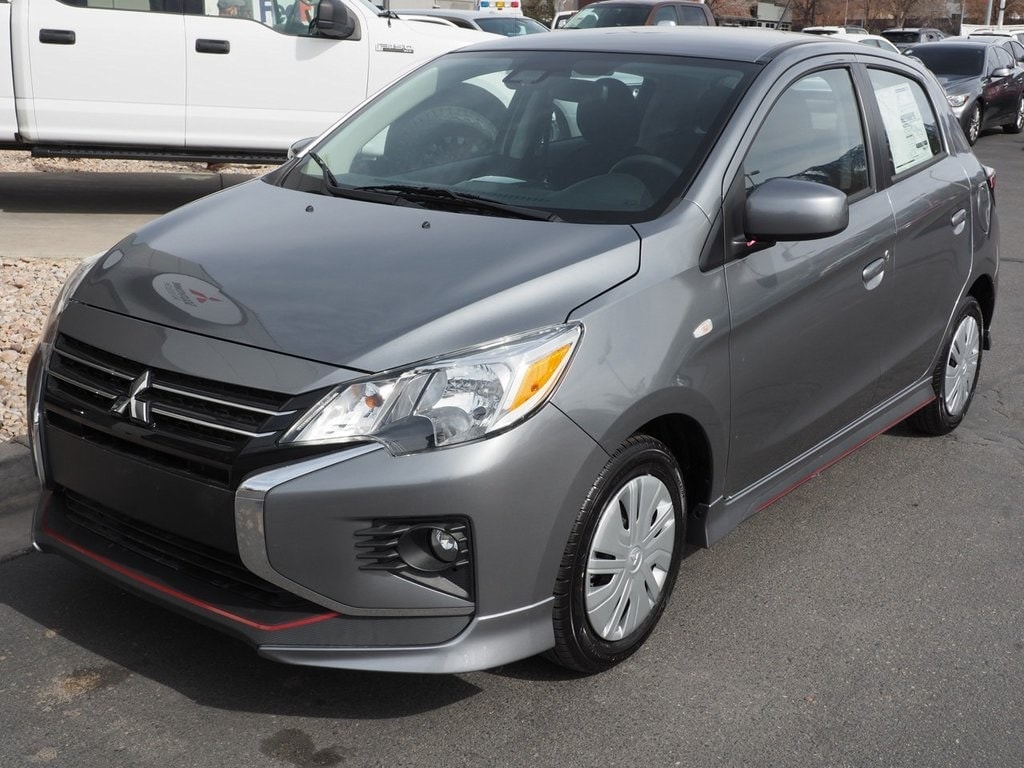 Mitsubishi has spent over 100 years (yes, really) manufacturing the best cars on the market. Don't just take our word for it. They've got the awards to prove it.
Mitsubishi has consistently been at the cutting-edge of car technology, from its innovative All-Wheel Control to its slick entertainment offerings that connect straight to your smartphone.
Mitsubishi cars offer a luxury driving experience with an accessible price tag, promising excellent value for money for drivers.
Is a Mirage or Mirage G4 Suitable for You?
Both Mitsubishi models offer something for everyone - unless, of course, elegant, innovatively-designed cars with cutting-edge technology aren't your thing. If you're in the market for a car that performs as well as it looks, and offers good value for money, either Mitsubishi model will suit you nicely.
Mitsubishi's Mirage and Mirage G4 both offer exceptional fuel economy, so you can save money and enjoy fewer stops at the gas station. Outside of hybrid vehicles, the Mirage and G4 are two of the most fuel-efficient cars you can find on the market.
They're both five-seaters with generous cargo space in the back, making them ideal both for weekend trips and whizzing around the city.
User comfort is at the forefront of these models' design, with innovative entertainment features and luxury seating on offer to drivers and passengers alike.
Mitsubishi Mirage Features

The front-wheel-drive Mitsubishi Mirage is spacious, with five seats and a whopping 47 cubic feet of cargo space when the car's rear seats are down. Even with the seats up, drivers and passengers will enjoy 17.1 cubic feet of cargo space.
This trunk space versatility is ideal for families taking long trips or bringing a stash of belongings when out and about. The car's impressive fuel efficiency is one of its most significant selling points, especially compared to competitors like the Chevrolet Spark and Nissan Versa.
The subcompact hatchback is available in four trims: ES, SE, LE, and The Black Edition. The Black Edition trim is a new Mirage feature for 2022.
When it comes to safety, the Mitsubishi Mirage has your back. This compact sedan comes complete with Pedestrian Detection, Lane Departure Warning, and Rearview Camera - features designed to guarantee you the safest drive possible.
Mitsubishi Mirage G4 Features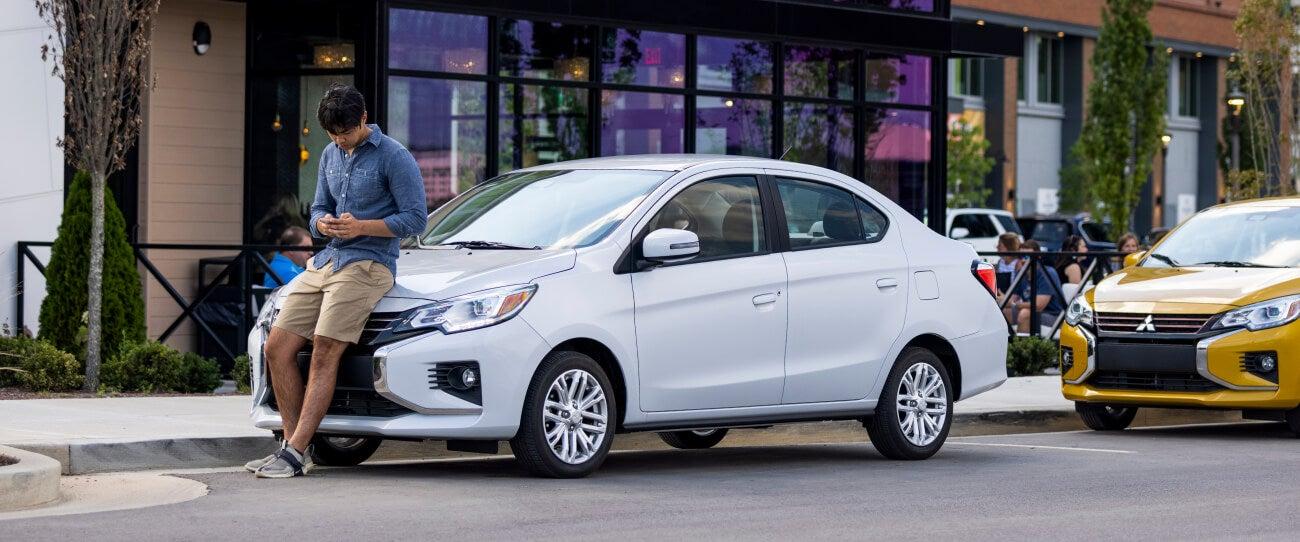 This stylish five-seater sedan is ideal for people who need to squeeze into tight spaces and make sharp turns. The Mirage G4 is as San Francisco-ready as cars come, with an innovative hill start assist to stop you from rolling down any troublesome inclines. Active Stability Control prevents you from slipping and sliding in wet or icy weather.
For a compact sedan, the G4's cargo space is generous, with 12.6 cubic feet of trunk space for those weekend getaway essentials.
When it comes to innovative technology and entertainment offerings, the Mirage G4 has it all. This compact car lets you connect your smartphone using Apple CarPlay and Android Auto, allowing you to access maps, music, and more.
The G4 also offers remote keyless entry, allowing you to get to your destination with no time spared.
This model boasts reliability on all terrains, offering 35 mpg in the city, 41 mpg on the highway, and a combined 37 mpg. The Mirage G4 sedan gets its power from a 78-hp three-cylinder engine that lets drivers choose between a five-speed manual or a continuously variable automatic transmission (CVT).
Mitsubishi Mirage vs. Mitsubishi Mirage G4
Features
Both the Mirage and the G4 keep passengers entertained with the ability to hook up to sound systems such as Apple CarPlay or Android Auto. Both vehicles benefit from Mitsubishi's signature All-Wheel Control, which gives drivers more power over their steering and increased stability.
Power and Size
The Mirage's mpg slightly pips the G4's to the post, offering a combined mpg of 39, rivaling the g4's 37. The Mirage is more spacious than the G4, with a larger cargo space. This makes the Mirage more suited to large families or couples that take trips with a fair amount of luggage.
However, the Mirage G4's smaller size might appeal to drivers who spend their time parking in small spaces or turning tight corners. The cars differ aesthetically - the Mirage is a hatchback, whereas the Mirage G4 is a sedan with a slightly sleeker front.
When it comes to power, both models boast a 1.2L Inline-3 Gas engine.
Price
The Mirage G4 is slightly more expensive, but this is made up for in fuel economy and its ability to squeeze into troublesome parking spots. Both cars offer excellent value for money, with an affordable price tag for hard-working families and individuals.
The Bottom Line
The Mirage and Mirage G4 are both exceptional cars, boasting excellent fuel economy, spacious interiors, and excellent value for money. If you're environmentally-minded or keen to save money, these two vehicles offer some of the best fuel efficiency you can find outside of hybrid models.
Both vehicles benefit from Mitsubishi's well-known generous warranty offer of 10 years or 100,000 miles, giving you peace of mind for the future. The two models also benefit from Apple CarPlay and Android Auto for in-car entertainment, as well as climate control for the most comfortable ride possible.
For city slickers, the Mirage G4 is ideal. This compact vehicle allows for easy turning and parking, even in small spaces. This model is the perfect car for people living in urban areas, with little need for tons of cargo space or flexible trunk space.
The Mirage is suited to families who need versatile cargo space for those spontaneous weekend trips. Offering similarly impressive fuel economy to the Mirage G4 but with a little more space, this vehicle is perfect for people who want their car as spacious as it is stylish.