Our Service Department Will Take Care of Your Mitsubishi
You can find a lot of great deals by shopping at Southtowne Mitsubishi in Sandy, UT, but what you might not know is that you can find great deals on services as well as vehicles. At Southtowne Mitsubishi, we are always on the lookout for ways to provide better services to our customers. That's why we're always trying to find ways to promote the services that our auto technicians can provide. Taking care of your vehicle is at the top of your priority list, and we are around to help you keep your Mitsubishi running well.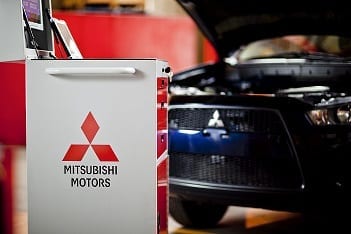 Why Try Our Auto Technicians
When you want your vehicle to run well, you want to find mechanics who will take care of your vehicle like it was their own. That's why you should come to our dealership and have our mechanics take a look at your vehicle the next time you think you need a service. They care about providing quality service and doing it quickly for Salt Lake City or South Jordan, UT customers.
We Have Parts On-Site
One of the biggest frustrations with having a foreign vehicle is that it can sometimes be challenging to find the right parts. That's why you need to come to a dealership that sells Mitsubishi vehicles. We have the parts on-site so that we don't have to take the time to order them, which can slow down the amount of time it takes to fix your vehicle. Instead, we have the parts available to us all the time to help our West Valley City, UT and Murray, UT customers.
The Types of Services We Offer
When you're looking for a mechanic, you want someone who can do oil changes and other routine maintenance, but you also want someone who can do those jobs when you can't figure out what it is that's wrong. We do many routine services, such as brakes, oil changes, filter replacements, and many other standard services. But we also do work on vehicles that need less common care, such as alternator replacements.
Visit Southtowne Mitsubishi Today!
If you're interested in getting a great deal on services that you need done to your Mitsubishi vehicle, come to Southtowne Mitsubishi and talk to our service department. If you're in Provo, UT or Lehi, UT, we're always excited to show you how we can take care of you. Be sure to check out our new inventory and parts center.

AUTO SERVICES WE OFFER:
Air Conditioning and Heater Service
Cooling System
Radiator Repair
Synthetic Oil Change
Conventional Oil Change
Two & Four Wheel Alignment
Brake Repair
Brake Pad Replacement
Brake Fluid Exchange
Check Engine Light Diagnostic
Tune-Up Service
Belts, Hoses, Fluids
Exhaust System Service
Power Steering Fluid Exchange
Multi-Point Vehicle Inspection
Cabin & Engine Air Filters
Alternators
Batteries
Wiper Blades Replacement
Tire Balancing, Rotation
Tire Replacement
Tire Tread & Pressure Check
Headlights
Starters
Transmission Fluid Exchange & Replacement
Shocks & Struts
Spark Plug Replacement
Engine Timing Belt
Serpentine Belt Replacement
2-Wheel Alignment
Battery Replacement
Check Engine Light Diagnosis